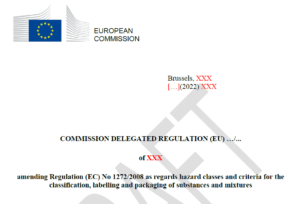 In September 2022 the European Commission launced a proposal for three new hazard classes:
-Endocrine disrupting (ED)
-Persistent, Bioaccumulative and Toxic (PMT)
-Persistent, Mobile and Toxic (PBT)
With this proposal the EU will further deviate from the globally harmonised system (GHS) for classification of hazardous substances that was established under supervision of the United Nations.
If the proposal is adopted, the new hazard classes will be included in the CLP regulation. In case a substance meets the criteria for classification according to one of these three new classes, the REACH registration dossier needs to be updated after a transition period. Also the Safety Data Sheet must be updated and possibly the labels on the packaging.
However, things might still change depening on the outcome of a public consultation the regulatory process.